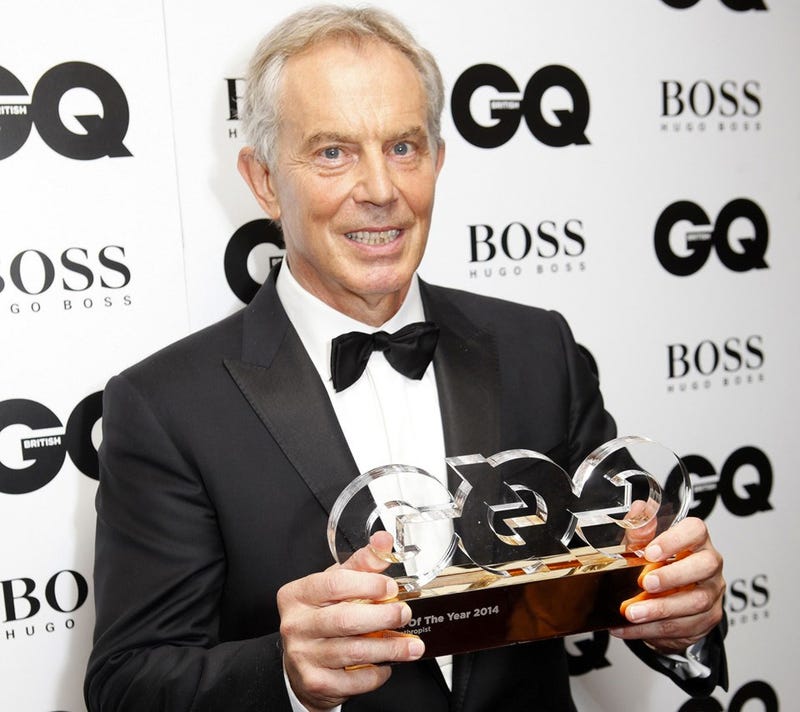 The British Isles' version of Gentleman's Quarterly announced a bunch of superlative awards on Twitter yesterday, including its bestowal of "philanthropist of the year" to Tony Blair: ex-prime minister, herald of New Liberalism, and captain of private-sector giving.
Blair was Britain's highest-elected official from 1997 to 2007, famously pressing to launch the flawed Iraq War on a thin pretext, which may have contributed to an air of Middle East instability and skepticism against Westerners that has grown particularly complicated this summer with the rise of ISIS in Iraq.
A multimillionaire from political consulting since leaving office, he also made headlines just last week when a letter surfaced showing he had advised one high-paying client, the dictator of Kazakhstan, on how to publicly defend the massacre of 14 civilian protesters. He also came under scrutiny for diverting his millions of pounds in profits through a complicated series of shell corporations that paid a surprisingly small sum in taxes.
"The Tony Blair Faith Foundation provides the practical support required to counter and prevent religious conflict and extremism in order to promote an open-minded and stable society," GQ wrote.
Blair accepted the award with gusto. "I feel the pulse of progress beating a little harder," he said in GQ's press release.
It's unclear what comes next for Blair, but thanks to GQ, one thing is certain: When Britons think of him, the first word that will come to them is "philanthropist."
[Photo via]